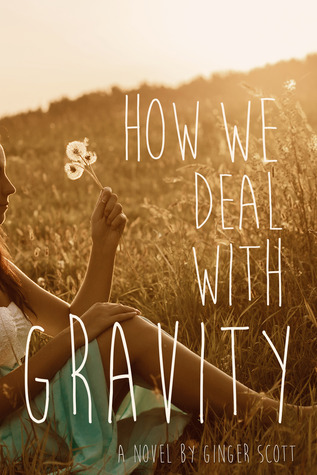 How we Deal with Gravity by Ginger Scott
When her son Max was diagnosed with autism, Avery Abbot's life changed forever. Her husband left, and her own dreams became a distant fantasy—always second to fighting never-ending battles to make sure Max was given opportunity, love and respect. Finding someone to fight along her side wasn't even on her list, and she'd come to terms with the fact that she could never be her own priority again.
But a familiar face walking into her life in the form of 25-year-old Mason Street had Avery's heart waging a war within. Mason was a failure. When he left his hometown five years ago, he was never coming back—it was only a matter of time before his records hit the billboard charts. Women, booze and rock-n-roll—that was it for him. But it seemed fate had a different plan in mind, and with a dropped record contract, little money and nowhere to go, Mason turned to the only family that ever made him feel home—the Abbots.
Avery loved Mason silently for years—until he broke her heart…completely. But time and life have a funny way of changing people, and sometimes second chances are there for a reason. Could this one save them both?
*
This book is about love. It's not so much a romance novel, but it has tons of heart.
Avery is a girl with a heavy load to carry. Her husband skipped out on her right after their son was diagnosed with autism. She's a girl stuck in perpetual motion, trying to move on with her life, go to school, take care of Max, hold down a job, but life is hard. In turn, Avery has had to become strong, for Max, for herself, for her father whom she lives with, because if she breaks down even a little, everything will crumble.
When Mason Street stumbles back into her life after years of being on the road, Avery sees it for what it is—a disaster that must be avoided at all costs. After all, she doesn't have time for a relationship, not with Max's constant demand for attention. What unfolds is a beautiful story of imperfect things that when put together, seem perfect.
Avery is a balanced combination of momma bear and fragile girl. I liked her fierce loyalty and patience with her son. I liked how hard she worked to make Max's life easier. I felt every tear she cried, because they were earned, and they were justified. I appreciated her dedication not only to Max, but also to her father, Ray. Like I said before, this story is all about love, and I saw it in the way Avery loved the people in her life.
Mason took a little while to grow on me, and I'm certain this was the author's intent. When he rolls back into town, dejected, fired from his music label, he's every inch the downtrodden rock star. A bit of a dick. A bit of a player. And he used the word "tits". I loathed him for a good while.
When Mason started interacting with Ray, my shell cracked. I have a soft spot for father/child relationships, and even though Ray wasn't Mason's biological father, he was his dad in every sense of the word.
Avery and Mason collide like fire and brimstone. She's carting around a broken heart from their high school days when Mason didn't SEE her for who she truly is, and Mason, well, he's finally SEEING Avery. He knows he's far from perfect. He knows that he screwed up with his band, with his life, and it's a little like watching an ugly mound of clay worked into a glorious sculpture.
Then he meets Max, who latches on to Mason immediately, picking up on Mason's knowledge of music. Max is extremely gifted and is soon teaching Mason things. I loved learning about Max and autism little by little throughout the book. I think it is something that's so misunderstood by society. Ginger Scott did an excellent, gentle job of explaining autism, the highs and lows, the struggles, and the beauty of something that's considered (perhaps wrongfully) a disability.
Between Max and Ray, Mason Street worked his right past my defenses—and Avery's.
There were so many things I liked about this story. Nothing was easy. Choices were difficult and realistic. I loved the "small town" bar feel, as well as the close knit community. I loved how music and references to gravity wove through the words. I loved the imperfect relationships, and how it was okay to be family with people who weren't actually your family by blood. I liked how it took a look at mistakes and made them livable—forgivable. I appreciated the selflessness of the characters.
How We Deal with Gravity is a wonderful look at what it means to be a family, and who – however flawed – makes life worth living.
I will definitely be picking up more of Ginger Scott's books.
5 STARS